<!— Google Tag Manager -->
At Hall Dental, we go the extra mile to keep smiles white & bright!
We are your Lethbridge Dentist! At Hall Dental, we welcome patients to our Lethbridge, Alberta dental office from near and far – which is just one reason why we we'll go the distance to ensure you enjoy your visit to our dentist office.
From General and Cosmetic Dentistry to services for children, you'll find the caring dentists and staff at Hall Dental can provide everything you and your family need for your dental health. When you arrive at our practice, you can expect a warm welcome, personal service with a smile and the utmost in professionalism. And more importantly, count on us to personally follow up with you after your appointment to make sure that you are 100% satisfied. We offer a wide range of dentistry services. Whether you have a cavity (or cavities), require teeth cleaning, or need a root canal, our team of dentists, dental hygienists and administration are here for you.
Dr. Hall and his team will make the time to explain things in detail to you so that you clearly understand your treatment options.
At Hall Dental, we offer a full range of dental services for the entire family. Young in years or young at heart – we're here to make you smile!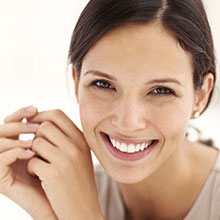 From veneers and teeth whitening to implants and more – your Hall Dental Team can help bring out your best smile!
Treat yourself to a brighter smile with Hall Dental!
All services provided by general dentists: Dr. Paul Hall, Dr. Pauline Hall and Dr. Todd ZoBell