Invisalign in Lethbridge
Our Hall Dental dentists are proud providers of Invisalign® clear orthodontic aligners for Lethbridge teens and adults who are looking for an alternative to traditional metal braces.
---
Modern Orthodontics
Orthodontic treatment can be an essential component in the creation of a healthier smile. Orthodontic treatment aims for straight teeth and an even bite, to improve the health and long-term wear of your teeth and jaw.
Invisalign® treatment provides a modern, convenient orthodontic solution that fits the busy lives of our patients.
What is Invisalign®?
Invisalign® is a unique orthodontic treatment that gradually straightens teeth using clear, virtually invisible removable aligners.
Incorporating up-to-date orthodontic technology with 3D imaging software, Invisalign® allows us to offer the precise results that traditional orthodontic treatment can deliver, without the restrictions.
How does Invisalign® work?
After determining that you are a candidate for Invisalign®, we will take impressions of your smile. Invisalign® 3D imaging software will then be used to create a series of virtually invisible aligners.
You will wear each set of aligners in the series for approximately two weeks before moving on to the next. As you move along in the series, your teeth gradually move into their new, straight positions.
---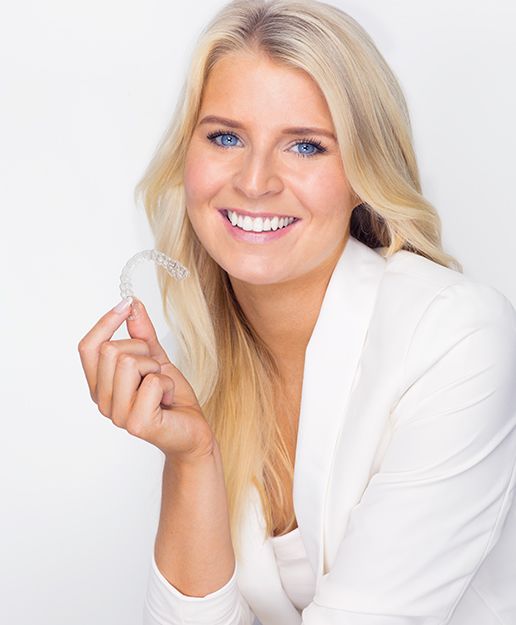 Is Invisalign® suitable for adults?
Yes! Invisalign® is an excellent option for our adult patients. We often find that our adult patients are reluctant to proceed with orthodontic treatment.
While they understand the benefits and confidence that an even smile, straight teeth and an improved bite provides, the idea of wearing traditional braces, possibly for several years, is not something many adults are willing to consider. With Invisalign®, even teeth and a proper bite are attainable without the obvious appearance of metal braces.
Is Invisalign available for teens?
Yes! Invisalign® is a very popular option for teens with active lifestyles who want the flexibility that Invisalign® offers.
How often will I have to attend appointments during Invisalign® treatment?
You will need to attend an appointment at our office every four to six weeks while you are in treatment. These appointments are important to monitor your progress. You will find they are very quick visits!
What are the advantages of Invisalign®?
Since Invisalign® aligners are virtually invisible when worn, you'll be able to maintain a more natural looking smile throughout treatment.
You can remove your Invisalign® aligners, meaning you'll be able to eat and brush and floss your teeth without restriction.
---
The Hall Dental team can help you achieve a beautiful smile with Invisalign®. Contact us today and book an appointment.